NewsFLASH
EXCLUSIVELY FOR ELLIE MAE CLIENTS USING ENCOMPASS
The RESPA-TILA beast is getting closer. Don't wait – tame it now. Get smart, get compliant, get ready. This month's Encompass® Newsflash is packed with tips, tools and educational opportunities to help you prepare.


Six Tools to Get RESPA-TILA Ready Right Now
You've been hearing it for months – RESPA-TILA is coming. But now it is real and right on top of us. At Ellie Mae®, we've been setting up on our end to help you get the education and tools you need to be ahead of this regulatory beast.

Below are six ways to take steps towards readiness – our
hands-on workshops,

a new Resource Center, easily accessible eLearning opportunities, in-depth webinars and detailed manuals – all of it carefully compiled and curated by our team of compliance experts.

Get RESPA-TILA ready with:

These are your tools – take advantage of them to get prepared for RESPA-TILA

.
How to Fix Our Nation's Housing Policy – by David H. Stevens
Today the American Dream seems to be in a perpetual time out and regulators in Washington appear to be in the driver's when it comes to the nation's housing policy.

The negative rhetoric and the enforcement environment are hurting everyone -- homebuyers, lenders and the stewards of the nation's economy. Housing policy is failing today and the laundry list of examples why, is endless.

When the rate checker tool doesn't live up to the CFPB's own regulatory standards; when the use of false claims is an overreach for even minor immaterial errors; when legislation and proposed rules are targeted toward both banks and non-banks of any shape and size; when a complaint database is launched that contains unverified claims without the opportunity for all sides to be represented; the list goes on.

Regulatory and enforcement overreaction has become counterproductive to the point of failing credit-worthy borrowers. The question must be asked: what can be done?

In a recent interview by the Economist, about Dodd Frank's impact, President Obama said, "We can go back at it and further refine it, learn lessons from things that aren't working as well, make it simpler, make it better."

I couldn't agree more. Let's fix the broken system, put balanced regulation in its place, and use enforcement as a last resort. We can help if Washington would be willing listen.

What lenders need, and what the housing market really needs, is operational clarity. Right now there are different rules based on how you do business. In fact, there are different rules and even different exemptions based solely on certain business models. If the industry cannot understand this complex lending environment, how can a consumer? Moreover, consumers anticipate, per the promise of the CFPB, that they are equally protected regardless of where they get their loan. Regulation by business model moves away from that, to the detriment of the consumer.

Also we must change the dialogue. We're operating the safest, soundest lending environment in decades. Consumers should feel confident in applying for loans and purchasing homes. Policymakers should champion this environment and run a victory lap to let consumers know they are well protected and that they can trust the system.

Additionally, I cannot stress enough how much words matter. Regulators should understand the power that their message has over the mortgage market and how this influences behavior. For example, when Chairman Janet Yellen speaks, markets move. When regulators continue with negative messages about the lending community, it fosters fear in consumers and they won't engage in homebuying.

Finally federal officials should work with the industry and stakeholders to change the rules in order to modify the tangled web of confusing regulations that is stifling innovation in the mortgage market. We have some of the best business and economic minds in the world in our industry, but their hands are tied with overwhelming bureaucracy and fear of enforcement.

So let's fix the rules and unleash responsible innovation on a broad scale to help more qualified borrowers obtain a sustainable loan, increase originations, and reignite the mortgage market as a driving economic engine.

The industry is doing our part. Now, it's time for Washington to do its part.

MBA could always use more support. If you are interested in joining MBA, and want to know how you can help bring change to Washington, go to www.mba.org.

David Stevens is President and CEO of the Mortgage Bankers Association (MBA). Prior to assuming this position, Dave served as the Assistant Secretary for Housing and Federal Housing Commissioner at the U.S. Department of Housing and Urban Development (HUD).

Dave has more than 30 years of experience in mortgage finance and has held several executive level positions in sales, acquisition, investment, risk management and regulatory oversight, including positions in senior management with Wells Fargo, Freddie Mac and World Savings. Prior to his appointment by the Obama Administration to serve at HUD, Dave was President and COO of the Long and Foster Companies.


Ellie Mae Releases April Origination Insight Report – Closing Rates Hit High Mark
We just released our Origination Insight Report for April 2015. So what does the data tell us?

Purchase loans as a percentage of lenders' overall mortgage volume eclipsed 50 percent in April, according to the latest Origination Insight Report. Last month's overall purchase share of 52 percent represented a 6 percent jump from March.

The overall closing rate on all loans exceeded 65 percent for the first time since reporting began in August 2011, reaching 65.2 percent. The average closing period for all loans rose from 44 to 45 days.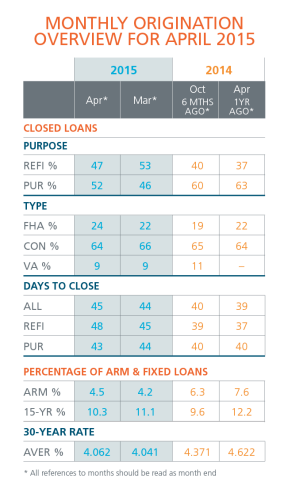 Access the April report – and previous months' – here. And if you want to stay right on top of the trends, be sure to subscribe and get the reports sent directly to your inbox. Just sign up on the report home page.

The Origination Insight Report mines its application data from a robust sampling of approximately 66 percent of all mortgage applications that were initiated on the Encompass® all-in-one mortgage management solution.
15.1 Release Update —Rollout for Full RESPA-TILA Support is Underway
On May 16, our production rollout of the Encompass® 15.1 Release got underway. It's a big update – geared to meet the looming demands of RESPA-TILA while elevating the all-in-one performance you expect from every aspect of Encompass.

Watch for tons of new RESPA-TILA forms and enhancements, plus these upgrades:

Correspondent support including trade management and assignment, and master commitment management

Secondary marketing enhancements including auto-lock settings and lock desk calendar*
And there's a lot more.

There's a lot to 15.1, so we've pulled together some resources to help you hit the ground running:

For details and the most up-to-date information, be sure to visit, bookmark and keep checking the new Ellie Mae Resource Center and its dedicated RESPA-TILA page.


It's Time to Make the Shift to SaaS – Watch the Self-Hosted to Hosted Webinar Recording
The self-hosted version of Encompass® is in its final phase. It's time to make the switch over to our hosted version.

It's a simpler, smarter easier way to leverage Encompass.

We know that change can be awkward, even intimidating, so we're working to make it easy. On Tuesday, May 12, we presented a webinar overviewing the steps involved to move from self-hosted to a hosted model – and why it's a good idea.

This 60-minute webinar will help you understand the process involved, why we're doing this, and the benefits of shifting to the ease of a hosted version.

And you'll hear from one of your peers who made the switch. Robin Harrison, Vice President and Compliance Officer from Inland Northwest Bank, will share her experience with their move from self-hosted to hosted, the business benefits they have experienced, and the efficiencies they have gained since making the move.

Download the webinar here.


Encompass Docs Solution Adds New Disclosures that Can Be e-Signed
In addition to the 1003, Encompass Docs Solution has added additional Disclosures that loan originators can eSign:
HUD/VA Addendum to Uniform Residential Loan Application (GAUL1JEM)

HUD/VA Addendum to Uniform Residential Loan Application (GAUL2JEM)

IN Loan Broker Agreement (INBA2J)

OH Business Relationship Disclosure Notice (OHBUSJ)

OH Notice of Change in Mortgage Terms (OHCMTJ)

OH Notice of Escrow of Taxes & Regular Monthly Payment (OHESCJ)

OH Mortgage Loan Origination Disclosure Statement Addendum (OHGFAJ)
For further information, please visit the Resource Center's Docs Solution page.

Encompass Docs Solution helps ensure quick, accurate and compliant documents from initial eDisclosures to closing documents. It automates data collection and calculations within Encompass while providing comprehensive compliance tests and audits with the Encompass Compliance Service.

Learn from the Leaders – Attend an Ellie Mae Compliance Expert Speaking Event
Long recognized as industry leaders, Ellie Mae's compliance experts and counsel regularly collaborate with the CFPB, GSEs and mortgage investors to analyze and interpret federal, state and local regulations. The knowledge they have is essential to our – and your – success when it comes to navigating the twisting compliance landscape.

And now they are taking their expertise on the road. In addition to our hands-on RESPA-TILA Workshops, Ellie Mae® and AllRegs® compliance experts will share their insights at a number of events.

This month:

Richard Triplett, VP, Director of Compliance for AllRegs® by Ellie Mae® will present twice:

June 2, 2015: MBAG: Educational Seminar Georgia MBA – RESPA-TILA, Atlanta, GA

June 3, 2015: NAR: 2015 Mortgage Conference, Washington, DC



Mark Emanuelson, Senior Product Counsel, will serve on the OK MBA RESPA-TILA Panel, in Oklahoma City, OK on June 2, 2015.


Angela Cheek, Ellie Mae's VP & Counsel, Product Compliance, will be a part of RESPA-TILA Panel at the Hudson Cook 2015 Consumer Financial Services Conference, June 14-16, 2015.

Visit the Compliance Central page on the Ellie Mae website for a complete list of speaking appearances and RESPA-TILA workshops.

These are great opportunities to gain top-level knowledge from industry leaders.

CondoTek's CondoPak is now available through Encompass
CondoTek's CondoPak™ is the most efficient condo document solution for lenders that underwrite condo loans, and it is now integrated in Encompass®.

CondoPak
™

is the premier "lender focused" Condominium Documentation solution. It includes all of the condominium documentation needed for approval review, and helps lenders improve efficiency, consistency and quality.

Each CondoPak
™

includes the Certified Questionnaire, necessary Governing Documents, Current Budget and Certificates of Insurance, and more.

The CondoPak™ is offered by CondoTek™, a Technology and Information firm that provides lender-focused real estate related products and services in the Condominium space with a concentration on creating efficiency for lenders when underwriting condominium loans.

Encompass Product and Pricing Service Adds New Investor Partners
Three new Investor Partners have recently been added to the Encompass Product and Pricing Service™. Adding investors gives you more options to offer your borrowers, and more opportunity for you in the secondary market.

Our new EPPS Investor Partners are:

For more information about Encompass Product and Pricing Service, click here.


AllRegs
Market Clarity – Get Faster Underwriting Answers
Keeping up with investors, products, and overlays takes time. But now you can find in minutes what used to take hours with AllRegs® Market Clarity®, a searchable solution for comparing up-to-date product, investor, and overlay information.

Market Clarity is a business information tool that helps you quickly and efficiently manage risk, identify market opportunities and maintain a competitive edge.

Combining the flexibility and reliability of a SaaS platform with a streamlined, powerful, intuitive interface and search function, Market Clarity delivers the ability to compare and contrast more than 3,000 loan products from 95 different investors.

You can:

Easily analyze loan programs side by side

Leverage detailed product templates and detailed investor guidelines

Review the full set of product guidelines for each of your investors

Track the changes to loan product guidelines the day – sometimes the very hour – they occur
Market Clarity also lets you access detailed guidelines from investors you don't do business with – yet. We mask their identity, and this allows you to access the information.

Learn more here.


Ellie Mae Partners with DocuSign to Deliver the Next Level in eSignature Capabilities
On May 11, 2015, we announced a new partnership – one that will make Encompass® even better. Ellie Mae® is now partnered with DocuSign, Inc. (DocuSign®) to deliver advanced electronic signature capabilities to its mortgage lender clients.

Ellie Mae and DocuSign will work collaboratively to integrate DocuSign's Digital Transaction Management (DTM) platform into Encompass. This will allow you – along with more than 119,000 mortgage professionals and thousands of mortgage companies – to create an easy, efficient and secure all-digital signing process for their home-buying clients.

"DocuSign shares Ellie Mae's goal of helping lenders achieve the highest level of compliance, loan quality and efficiency in the mortgage process," said Joe Tyrrell, executive vice president at Ellie Mae. "As a leading provider of digital signature technology, DocuSign is a natural partner to help us further innovate eSignature capabilities in our industry. DocuSign's relationship as the exclusive electronic signature provider of the National Association of Realtors (NAR) allows our clients and the real estate community to jointly bring consistency to the consumer experience throughout the entire home buying process."

"We're pleased to have Ellie Mae as part of the DocuSign Global Trust Network," said Tom Gonser, DocuSign founder and chief strategy officer. "For years, Ellie Mae has transformed the mortgage industry by eliminating the reams of paper that plague traditional loan processes. We look forward to working with Ellie Mae to deliver a superior digital signing experience to the mortgage industry."

Read the official press release here.
Events – Meet Up with Us
Come see us in person. Ellie Mae® will be a part of these upcoming industry events:

June 14-17, 2015 ABA Regulatory Compliance Conference, Washington, DC

July 8-10, 2015 California MBA Western Secondary Marketing Conference, San Francisco, CA

September 16-18, 2015 New England Mortgage Bankers Conference, Newport, RI

September 20-22, 2015 MBA Regulatory Compliance Conference, Washington, DC

October 4-6, 2015 ABA Marketing and Retail Conference, Denver, CO

October 18-21, 2015 MBA Annual Convention and Expo, San Diego, CA
These events are great opportunities to meet with Ellie Mae staff to discuss new solutions, find ways to maximize existing ones, and connect one-to-one.

The complete event schedule may be found on the Ellie Mae website's events page.